देवेश्वराय देवश्य देव संभूति कारिणे ।
प्रभावे सर्व देवानां वामनाय नमो नमः ।।
deveśvarāya devaśya deva saṃbhūti kāriṇe ।
prabhāve sarva devānāṃ vāmanāya namo namaḥ ।।
Salutations to you O God of Gods, who embodies radiance and godliness of every god.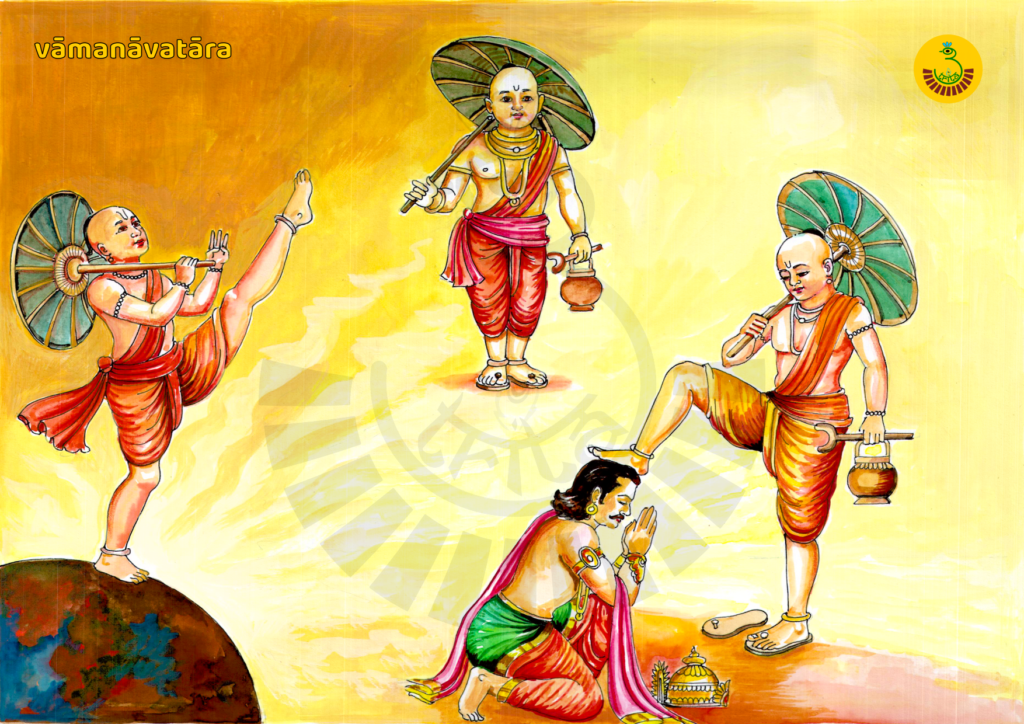 A short story of the vamana avatara
Bali chakravarti, who was the grandson of Prahlada defeated Indra and the other devas and ruled over the three lokas. The devas went to Maha Vishnu and sought his help to defeat Bali.
Maha Vishnu assumed the form of a very young brahmana, called Vamana. He was very short in stature. Vamana then went to Bali chakravarti's palace when he was performing a yajna. Bali was overjoyed to see a learned young brahmana and promised to give him whatever he sought. Vamana asked for three steps of land.
Bali agreed, and Vamana started to grow into a huge giant. So big, that with his first step, he set foot on the entirety of bhuloka, with the second one, on svargaloka.
Bali realized it was Maha Vishnu in his avatara, when he offered his head as the resting place for the third step. Vamana was pleased and placed his foot on Bali's head, while gently pushing him to patala loka. Vishnu granted Bali immortality and made him the ruler of the patala loka.
Watch a 9 minutes video from the movie Dashavataara (kannada) that shows the context of Vamana Avatara and the climax of the avatara.