साकेतपुरीभूषण राम ।
सकलस्वीयसमानत राम ।।
रत्नलसत्पीठास्थित राम ।
पट्टाभिषेकालंकृत राम ।।

सकलजीवसंरक्षक राम ।
समस्तलोकोद्धारक राम ॥

sākētapurībhūṣaṇa rāma |
sakalasvīyasamānata rāma ||
ratnalasatpīṭhasthita rāma |
paṭ-ṭābhiṣēkālaṅkr̥ta rāma ||

sakalajīvasamrakṣaka rāma |
samastalōkādhāraka rāma ||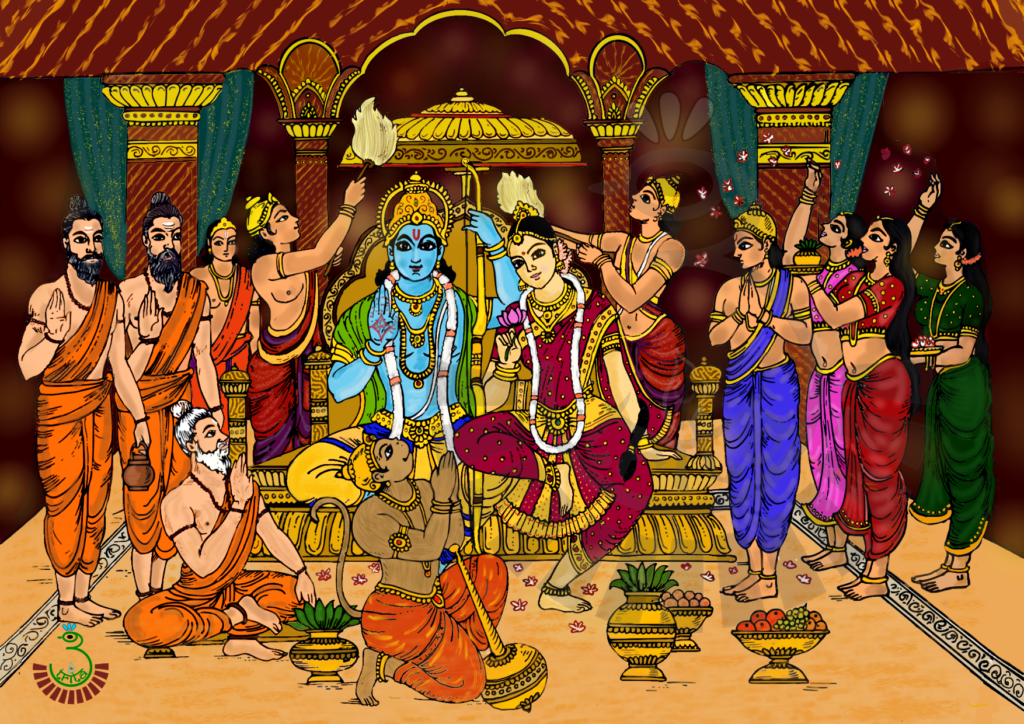 The environment at the time of Sri Rama's pattabhisheka was beyond imagination. The throne itself was so grand and radiant.
Sri Rama paid respects to the sages, elders, his new friends from all across Bharathavarsha, his kith and kin. The sages were mesmerised by looking at Sri Rama alongwith Janaki. As the brahmanas chanted the Vedic hymns, gods from the heaven showered flowers and choicest blessings.
His kulaguru Sage Vasishtha applied the Rajtilaka and crowned the new king.